Hochkonig
In spite of not very good weather forecast, we decided to do a winter tour in Austrian Alps. It took us a while to decide what would be the best to do. After all, we made a plan to reach the 2942 meter high Hochkonig with overnight stay in the mountain hut Matras House, located on top of the summit. According to available information, there was one room still available, but without heating. That was good enough for us and we decided to take it. We packed extra cloth and extra wine and headed out to reach the mountain. There are many paths leading to the summit. We chose the one that was technically less difficult but with steeper path. A steep foggy road through the Muhlbach village took us to the trailhead located near the Arthur House hut. As we reached the level above the fog, beautiful views opened and we could see the Hochkonig mountain with it\'s full beauty. Here, our adventure began. First, we hiked from Arhtur Hause through Mitterfeld hut where the path turned from south slope to the cold north valley covered by 10 cm of snow. This valley is very popular for skitourists and we already were getting excited to ski here on our way down.
The valley was surrounded by the beautifull summit of Torsäule that one can reach \"via feratta" (by secured path). After a long and exhausting hike, we finally reached the Schweizertafel, and could see our cottage from here. My prediction to get there was only 20 more minutes. Unfortunately, it took us another 1,5 hour to reach our destination. In the end, our hike took us full 7 hours (official information was 4 hours) and we missed the sunset. I was ahead of the group by far, rushing to the peak and seeing a beautiful sunset passing by. I wanted to photograph the beauty under those beautiful lighting conditions. As I reached the summit, the show was over. I missed it only by a few minutes. I was exhausted. It was a very painful experience for me that almost knocked me out. Last members of the group arrived with their headlamps on at half past six o\'clock, long after the sunset. Luckily, we have found the winter-room and our favorite ceremonial began – jingling of mess-tins, cutleries, melting snow and playing games who shall go to get more snow for cooking in the freezing temperatures outside. After dinner, a deserved dewily bonus came – wine, \"Becherovka", and a new for us - Alchymist. It was a great evening with a lot of fun. In the morning, after a beautiful sunrise with excelent round view, we headed down. For our descend, we chose a different path, going through the south wall. It was a bit broken and steep, therefore, not advised in winter, but we were able to make it safely. On the right side, we could see a beautifull ferrata (secured path) leading to the Königsjodler. It looked very difficult, but inviting. Our south path was nicelly warmed by the sun, compared to the snowy and cold valley that we passed yesterday. It felt like being in a different world. It looked gorgeous! It took us 6 hours to get down. We all were tired and exhausted, but also happy. It was all worth it.
Start : Arthur Haus, 1502 mnm, parking place for free
Goal: Hochkonig, 2942 mnm
Superelevation: 1440 m
Ascent: 6-7 hod through Mitterfeld Alm
Descent: 4-6 hod by south path
Overnight: Matras Haus, 2942 msl, winter-raum, no heating, 5 EUR
Map: freytag & berndt, Pongau . Hochkonig . Saalfelden; WR103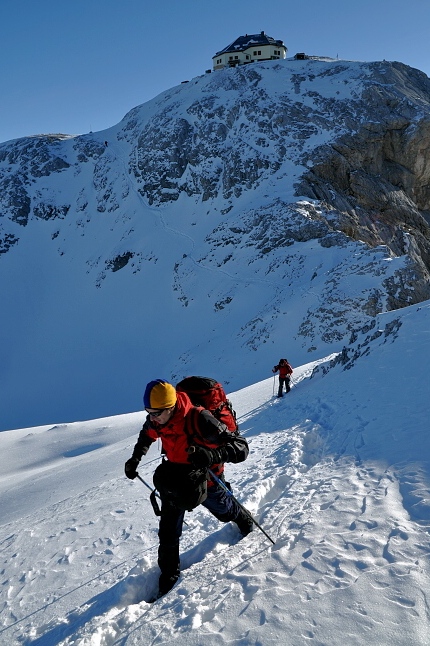 15. october, 2012
http://www.nfjakcetsmall.com
\">www.nfjakcetsmall.com North Face Down Jackets Women\'s can be your good choice if you are a sports fans even in the cold winter. It\'s fit for counteracting cold weather perfectly, and it\'s made in lightweight so you are not necessary worried about the comfortable feeling.
Reaguj na komentář